Pharmacy Transitions to Drive Thru Model
With the ever-evolving guidelines surrounding COVID-19, Moundsville Pharmacy has made a proactive decision to reduce the spread of illness and risk for service interruptions. After much consideration, the Moundsville Pharmacy, Sistersville Pharmacy, and Pine Grove Pharmacy teams have decided to transition to DRIVE-THRU service, CURBSIDE service, and DELIVERY service ONLY, effective immediately until further notice.
Jason Turner, pharmacist and owner of PharmaCole, explains, "We believe the best strategy we can offer the community is to protect our patients during this time by offering them limited access to the pharmacy, which will reduce our patients exposure to one another, all while, reducing exposure of our staff to illness and reducing the risk of interruption to our pharmacy services."
Turner explains that Moundsville Pharmacy's design allows the pharmacy to provide the same level of service through its drive thru and curbside service, including over-the-counter products, medical equipment, and retail services. Similarly, Sistersville Pharmacy is also designed with drive thru service. Pine Grove Pharmacy and New Martinsville Pharmacy will offer curbside service.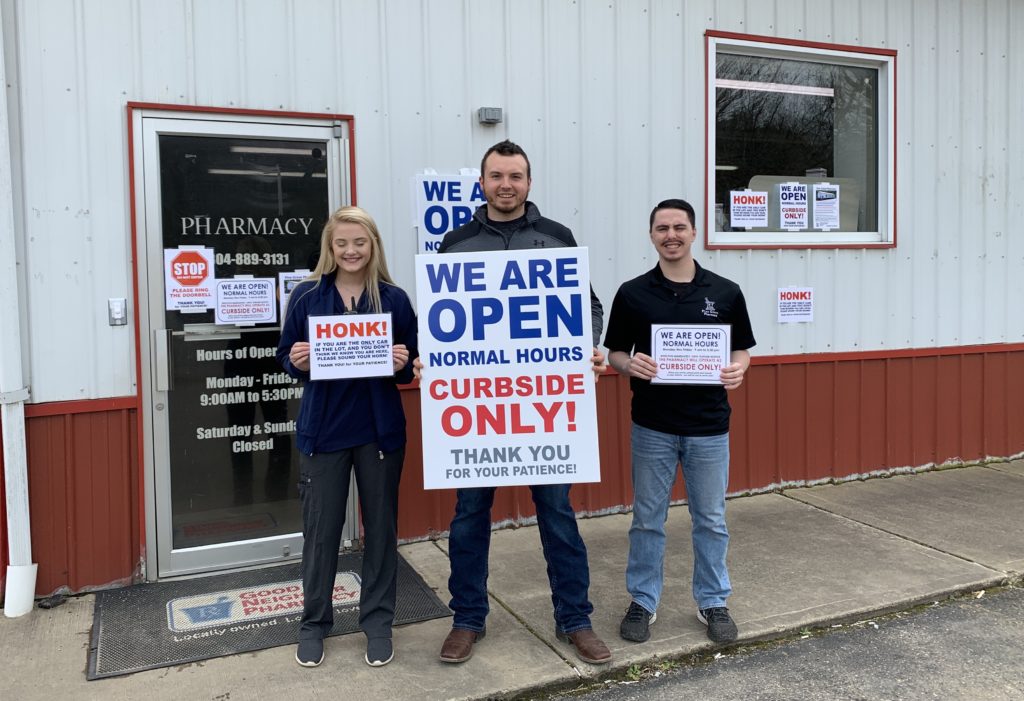 At Moundsville Pharmacy, before entering the drive-thru lanes, an attendant in the parking lot reviews the needs of the patients in their vehicles and radios into the pharmacy to ensure patient's prescriptions are ready, and that no delays will occur during the checkout process. "This helps to keep our lines moving quickly!" explains Tiffany Turner, technician and owner.
In addition, the pharmacy is prepared to expand its delivery services. "We know that many patients will choose to self-quarantine to prevent contracting illness. Moundsville Pharmacy will be offering expanded delivery to help patients stay protected."
"We know the community is counting on us. We believe this will be the most effective way to safely protect everyone and meet the needs of the community for the weeks ahead," comments Josh Border, pharmacist-in-charge.
Turner explains, "In Italy, the news reported that all businesses were shut down, except pharmacies. Pharmacies are a vital part of the community, and we know it. This strategy will reduce the risk of employee illness, which will allow our team to be at the pharmacy and working hard to serve the community when they need us most!"
Most importantly, our pharmacy teams want you to know they are available to serve you and your family.
With the ever-evolving guidelines surrounding COVID-19, Moundsville Pharmacy has made a proactive decision to reduce the spread of illness and risk for service interruptions. After much consideration, the Moundsville Pharmacy, Sistersville Pharmacy, and Pine Grove Pharmacy teams have decided to transition to DRIVE-THRU service, CURBSIDE service, and DELIVERY service ONLY, effective immediately until further notice.…