Witchey's Pharmacy Joins Pharmacole Family
New Martinsville, WV – Effective July 1st, 2018 the pharmacy located in Witschey's Market will change names from Witschey's Pharmacy to New Martinsville Pharmacy. The change in name is the result of a change in ownership for the pharmacy operation. Bill Witschey, longstanding owner of Witschey's Market & Pharmacy, will continue to own and operate Witschey's Market, while the pharmacy will be operated by pharmacist Jason Turner, owner of Moundsville Pharmacy, Sistersville Pharmacy, and Pine Grove Pharmacy.
While the name may change, the location, hours, and staff will certainly be familiar to patients. Greg Plas, RPh will continue in his position as the day-to-day managing pharmacist, along with Shana Campbell, PharmD and pharmacy technicians Lisa, Paula, Michelle, and Madison.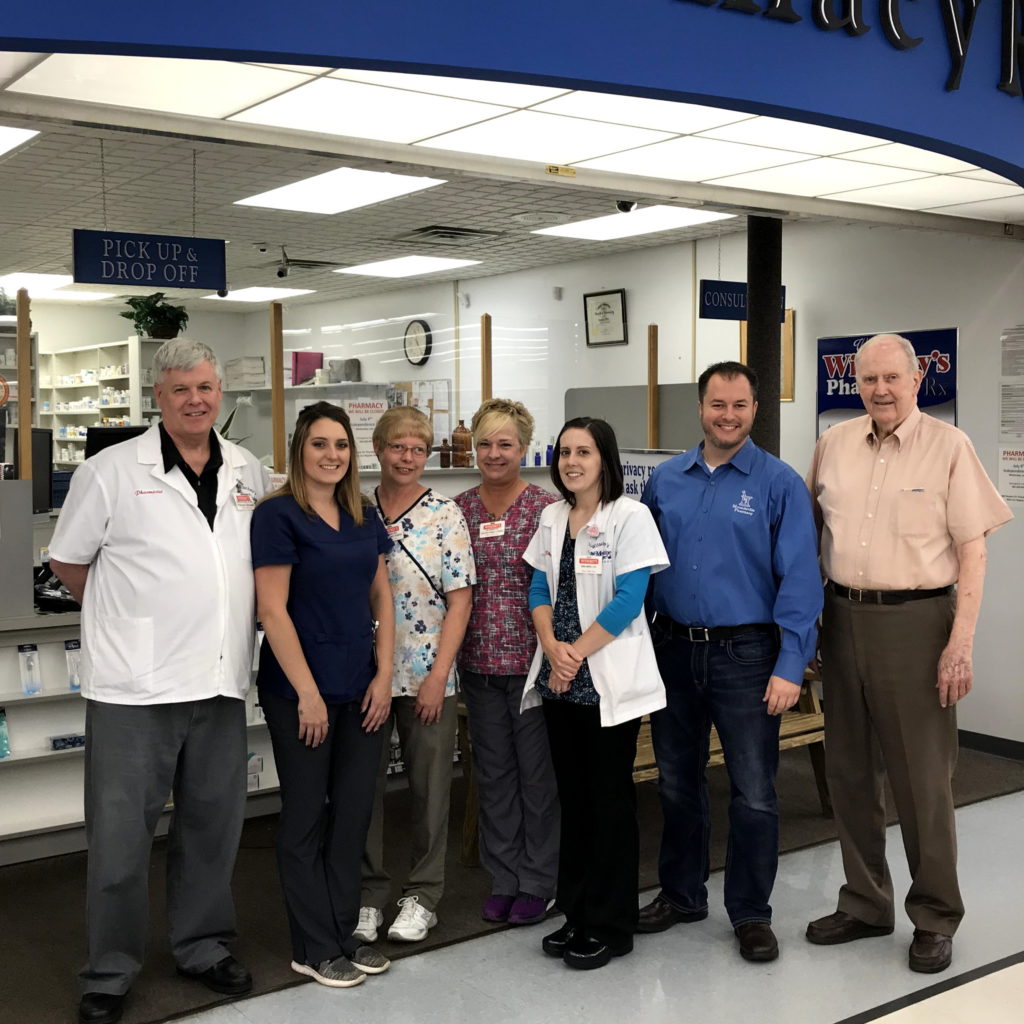 "It's extremely important to me that we retain the same high-quality commitment to our patients and the community that Mr. Witschey and his family have established and maintained over these many years," stated Jason Tuner, new owner of the pharmacy. "A seamless transition will be our goal as we re-brand the pharmacy from Witschey's Pharmacy to New Martinsville Pharmacy," commented Turner.
In addition to filling patient prescriptions, New Martinsville Pharmacy will offer a variety of services to meet patient needs including Immunizations, a Synchronization Program, and a Medication Packaging program along with several new services on the horizon.
Immunizations – New Martinsville Pharmacy will be your Immunization Headquarters. We will be offering flu and pneumonia vaccines, the shingles vaccine, and additional vaccines for Hepatitis A, Hepatitis B, tetanus, and pertussis. If you are not sure which vaccines are indicated for you, visit New Martinsville Pharmacy for your vaccine consultation and to see what your insurance covers.
SyncRx+ Program – SyncRx+ is designed to synchronize your prescriptions to one monthly visit to the pharmacy. Each month a pharmacist will call you to review your medications to ensure that you always have the medications you need.
"Patients are looking for a simple, convenient, and easy solution. Patients have really appreciated this program in New Martinsville because it makes it easier for them to get their prescription refills without having make multiple visits to the pharmacy," said Greg Plas, pharmacist at New Martinsville Pharmacy.
New Martinsville Pharmacy will continue the normal hours from 9 am to 6 pm on Monday through Friday, from 9 am to 3 pm on Saturday, and 11 am to 3 pm on Sunday.

For more information, contact Jason Turner at (304) 455-2171.

NEW MARTINSVILLE PHARMACY…EXPERIENCE THE DIFFERENCE!
New Martinsville, WV – Effective July 1st, 2018 the pharmacy located in Witschey's Market will change names from Witschey's Pharmacy to New Martinsville Pharmacy. The change in name is the result of a change in ownership for the pharmacy operation. Bill Witschey, longstanding owner of Witschey's Market & Pharmacy, will continue to own and operate…